Los Angeles' Newest Mixed-Use Development Signs Project Labor Agreement with Building Trades Unions. Bunker Hill Project to Create More Than 8,300 New Jobs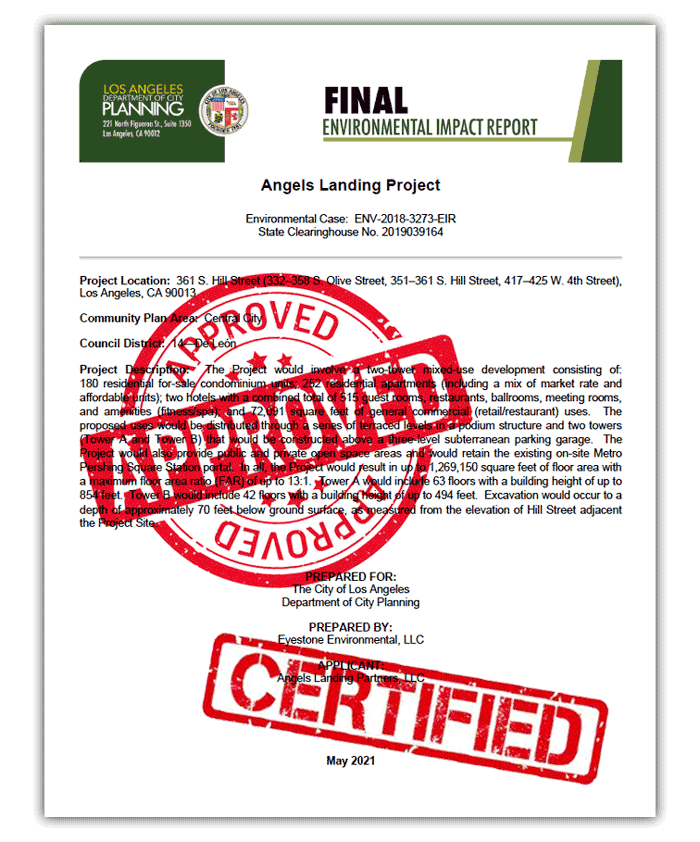 LOS ANGELES, CA (MARCH 28, 2022) – Angels Landing, downtown Los Angeles' newest mixed-use high-rise development, announced today entitlement by the city of L.A. along with support from major L.A. unions. Developed by two of the country's leading African American developers, Don Peebles of The Peebles Corporation and Victor MacFarlane of MacFarlane Partners, the project will be the third tallest building in L.A. and the tallest development in the United States to be developed by Black developers.
"We are focused on bringing increased diversity and equity to L.A. through Affirmative Development, and the transformative impact of empowerment and economic inclusion from Angels Landing will be felt by an array of businesses including African American, Latino- and Asian-owned," said R. Donahue 'Don' Peebles, chairman and CEO, The Peebles Corporation. "We have committed to a goal of 30% minority and women-owned business contracting across the board for our project in excess of over $480 million, and we're raising the bar for economic inclusion for development projects in L.A," he said.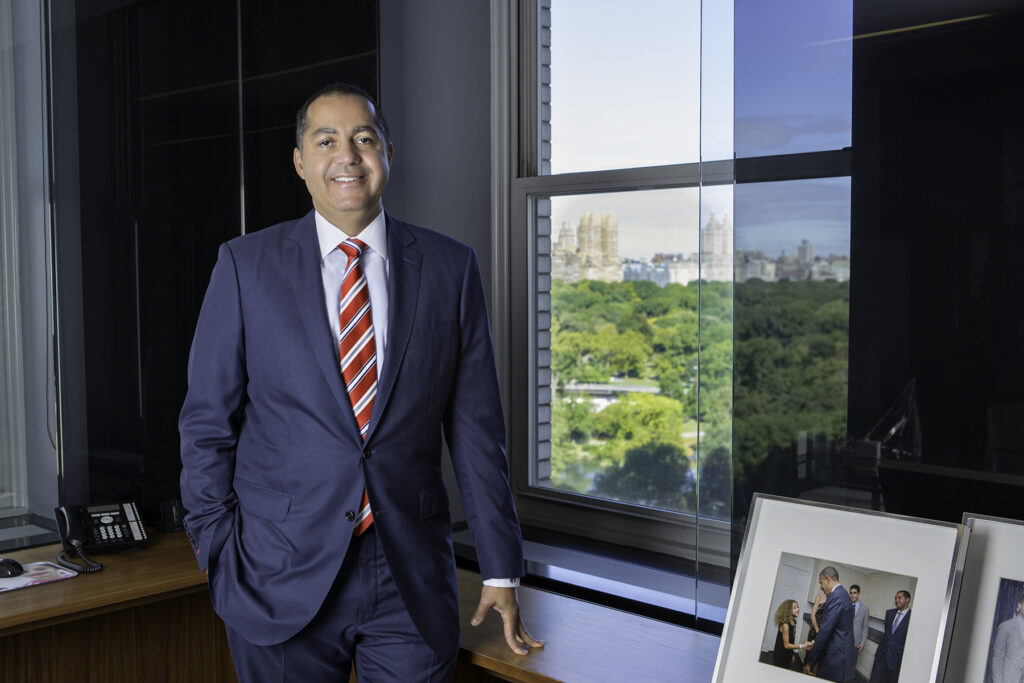 "With Angels Landing will come desired levels of diversity and inclusion to L.A.'s hospitality industry and the expansive services sector that supports the local hotel industry," said Victor B. MacFarlane, president and CEO, MacFarlane Partners. "It's about time the economic benefits generated by massive projects like this are provided to people who are reflective of the project," he said.
Located in the Bunker Hill neighborhood of downtown L.A., Angels Landing, when completed, will stand 854 feet tall with 88 floors. The project will span more than 1.2 million square feet and include an iconic two-tower development with two hotels, city-view condominiums and apartments, and retail and restaurants.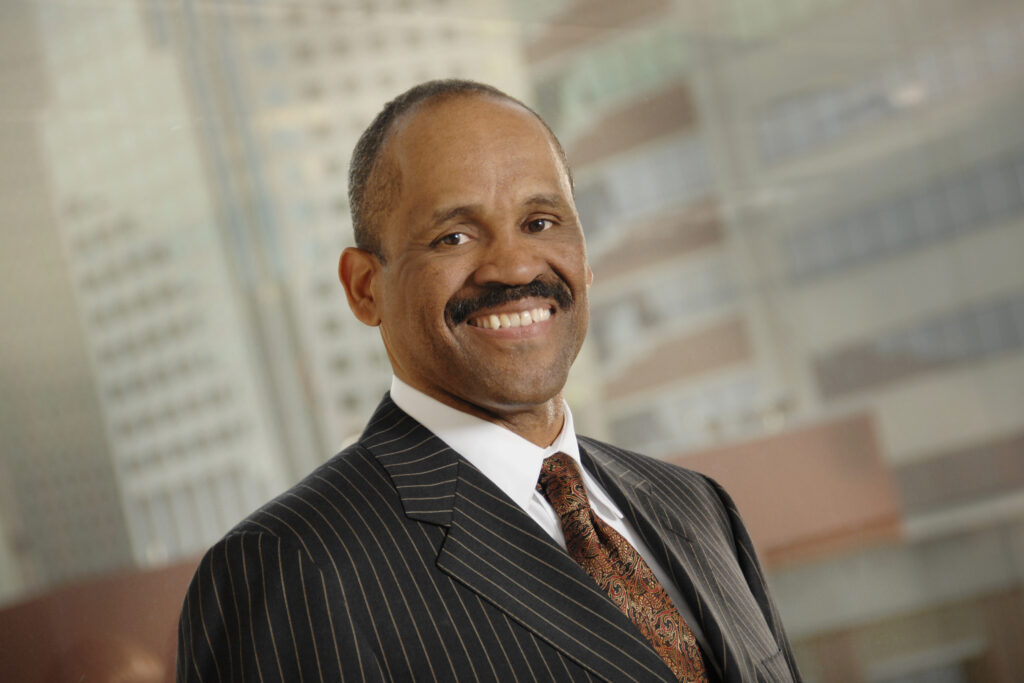 The development will also include Angels Landing Plaza – a modern pedestrian-centered and transit-adjacent urban park in the heart of downtown L.A. The plaza will frame the multi-level space as a publicly accessible and privately managed park amenity, establishing it as a vibrant, inviting, and treasured locale for L.A.'s downtown neighborhood residents, working professionals and weekday commuters, nightlife seekers, tourists, and hotel guests.
Angels Landing will bring thousands of new jobs and economic benefits to the city and boost L.A.'s local economy by contributing $731 million to local worker's earnings during its construction. In addition to job creation, the project will also generate an estimated $12 million in recurring tax revenues and $2.4 million annually in local property tax revenues for the county.
According to BJH Advisors, more than 8,300 temporary jobs will be created during Angels Landing's construction, while more than 800 permanent jobs will be created in downtown L.A. Of these, an estimated 500 jobs will come from vendors in the L.A. County region providing goods and services to the two luxury hotels.
The project has received solid support from various leading L.A. organizations including The Greater Los Angeles African American Chamber of Commerce (GLAAACC), the most influential organization advocating for growth, equity, and economic opportunity for Black-owned businesses. UNITE HERE! Local 11 has strongly advocated its support as well. UNITE HERE! represents more than 32,000 workers employed in hotels, restaurants, airports, sports arenas, and convention centers throughout Southern California.
"Equity, inclusion, and Affirmative Development are bedrock principles at the Peebles Corporation," said Peebles. "With each project I've developed, from New York to Washington, D.C. to Miami and more, I've been most excited about using my momentum to empower minority- and women-owned business leaders."
"MacFarlane Partners has a continued belief in and commitment to downtown Los Angeles and the community it serves," said MacFarlane. "From the landmark JW Marriott and Ritz-Carlton Hotel and Residences at L.A. Live, to our recently completed Park Fifth and Trademark high-rise apartment communities, and now Angels Landing, our projects create a better place to live, work, and play."
Peebles and MacFarlane are the majority-owner and managing member principals of Angels Landing Partners, LLC, the development partnership responsible for conceiving, designing, building, and operating Angels Landing. Designed by architecture and interior design firm Handel Architects, the project was officially selected by L.A. City officials at the conclusion of the city's competitive bid process in 2017.
Doane Liu, executive director, L.A. Tourism and Convention Development said, "Hotels are essential providers of high-quality jobs and account for a substantial part of the workforce in L.A. County. These entry level, well-paying jobs lead to careers and economic stability, while the other mixed-use elements of Angels Landing, including affordable and market-rate housing and a variety of quality retail and restaurant uses, make it an attractive destination for visitors and residents of the city."
GLAAACC Chairman Gene Hale said, "The city needs projects like Angels Landing to remain competitive with other cities vying for increased tourism and convention business, and we strongly support its development as an important new contributor to these industries. Angels Landing will create a new and dynamic destination in Bunker Hill with its hotel rooms, retail shops, and restaurants that will attract new residents, tourists, and business travelers, along with a variety of open spaces and terraces that will make for a unique and welcoming experience for all who patronize the project site and surrounding areas. Furthermore, we're excited to see the commitment to equity and inclusion through minority-owned and women-owned business procurement and equally high level of diversity in the workforce that will manage and operate its luxury hotels."
To learn more about Angels Landing, visit www.angelslandingdtla.com.
---
About The Peebles Corporation
Founded in 1983 by Don Peebles, The Peebles Corporation is a privately held national real estate investment and development company specializing in residential, hospitality, retail, and mixed-use commercial properties. The company has become an industry leader with a portfolio of active and completed developments totaling more than 10 million square feet and $8 billion in the gateway cities of New York, Boston, Philadelphia, Washington D.C., Charlotte, Miami, San Francisco, and Los Angeles.
Guided by the principles of Affirmative Development™, The Peebles Corporation creates environments of economic opportunity and prosperity for minorities and women in business and helps to close the wealth gap by using both the company and its projects as vehicles for change. As a minority-owned development company, The Peebles Corporation is known for its commitment to make inclusivity a priority throughout all phases of a project and assembles teams that are not only qualified to execute but are also reflective of the diversity of the cities in which it develops.
The Peebles Corporation is also revered as the nation's leader in the acquisition and development of large-scale urban properties through public-private partnerships, having successfully realized more real estate development through this method than any other company. Utilizing construction excellence, sustainable practices, historic preservation and innovative design, every project is strategically selected to achieve transformative results for the company and community.
About MacFarlane Partners
MacFarlane Partners is a minority-owned real estate investment management and development firm that acquires, develops, and manages properties on behalf of some of the world's largest pension plans and institutions, as well as for its own account.
Headquartered in San Francisco and founded by Victor B. MacFarlane in 1987, the firm pioneered the urban investment concept among institutional real estate managers in the 1990s and today is a leading investor in and developer of properties that promote smart growth, urban revitalization, and sustainability in urban and high-density suburban submarkets of top-tier metropolitan areas nationwide. It invests in and develops properties directly and through joint ventures with other developers and investors, with an objective to achieve investment success while making a difference in the communities in which it invests.
With more than 30 years of experience as an investment manager for institutional investors, MacFarlane Partners has built an impressive track record that spans multiple real estate cycles and a broad range of property sectors, capital structures and investment strategies, including core, value-added and opportunistic. Since launching its urban real estate program in 1996, the firm has invested in $13 billion in urban properties totaling eight million square feet of commercial space and 15,000 multifamily housing units.
Among the properties it has developed directly or in partnership with others are the Time Warner Center and Level BK in New York City; Park Fifth and the Hotel & Residences at L.A. Live in Los Angeles; Bay Street Emeryville and Venn on Market in the San Francisco Bay Area; and Anthology, 55 M Street and North Bethesda Market in the greater Washington, D.C., metro area.
About Handel Architects
Handel Architects LLP is an architecture firm that was founded in New York City in 1994. Led by Partner Gary Handel, the firm has offices in New York City, Boston, San Francisco, and Hong Kong.